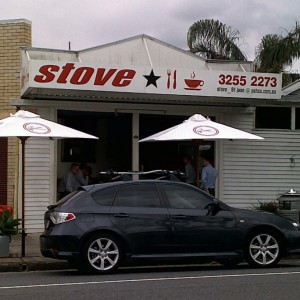 Earlier in the year Ephox, after many years in Paddington, moved it's Brisbane office to West End. Whenever I find myself in a new location I like to go for walks around the area to get a feel for it. On a few of these, I came across interesting or amusing things, and so I thought I'd create a new category (West End Wanderings) on my Blog for them.
For the first one, I thought I'd introduce my favorite place to get coffee.
Local Coffee
A key requirement of all software teams is access to good coffee. While we have a great machine in the office, a good barista will always produce better coffee and besides, it's an excuse to get outside and stretch the legs.
Stove is just up the road from us in an unobtrusive little building. The staff are brilliant and the coffee is too. Oh, and if you find yourself there, their fresh made muffins are wonderful, but be quick, they disappear rapidly.